Research · Editorial
OU's MirageXR learning tool bridges gap in cognitive processing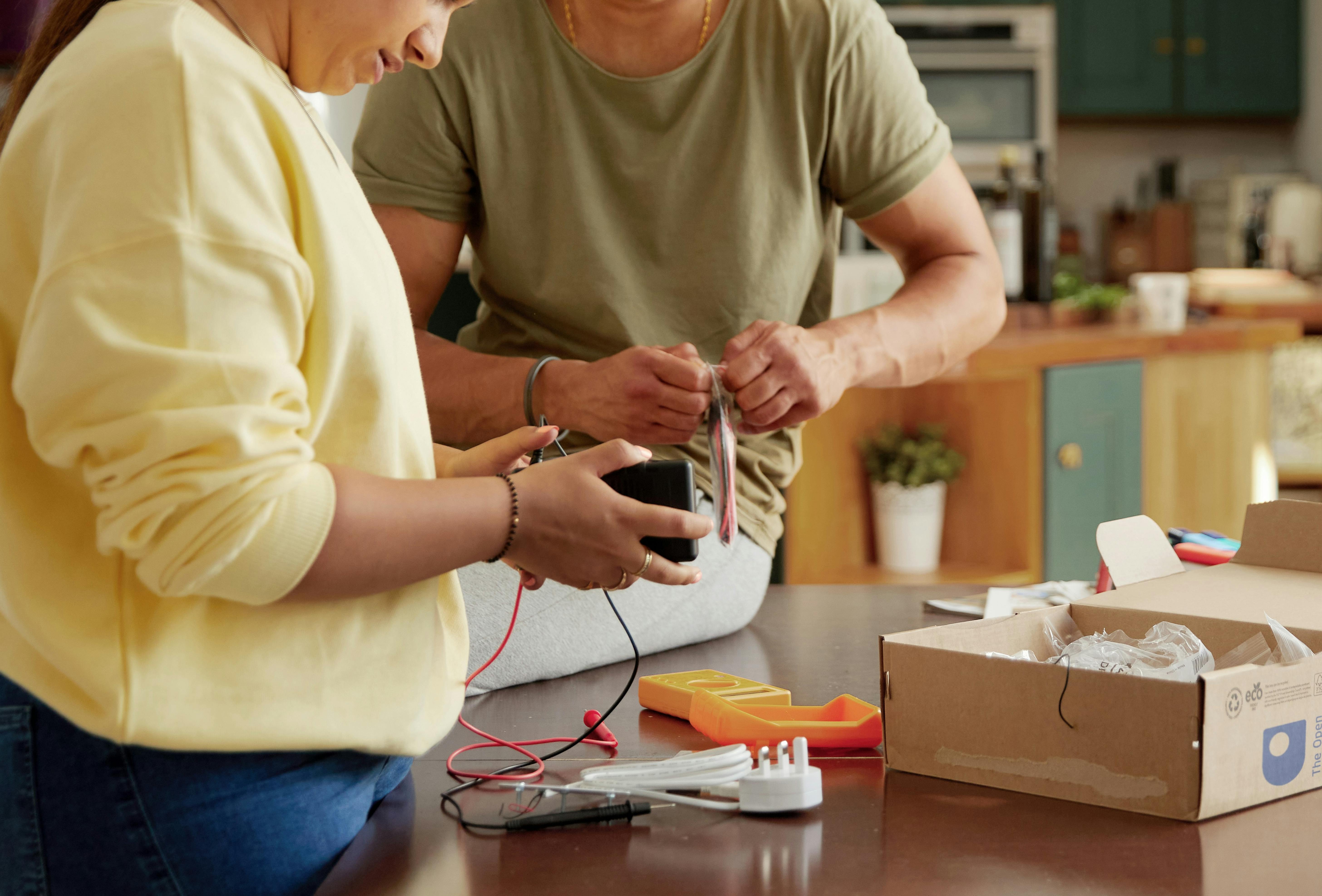 Mirage XR, the flagship cross-platform augmented reality (AR) app for industrial training and educational course creation.
The Open University's Institute of Educational Technology (IET) launched the Mirage XR app with partners in 2021, responding to the need of educators, trainers and mixed reality developers to create AR-enabled curriculum and deliver training using augmented reality (AR).
MirageXR allows educators and developers to build custom holographic training courses, allowing for improvements in workplace process, data analysis to assess performance and help industrial workplaces save money on training costs.
Technology-enhanced-learning (TEL) is at the heart of the app, supporting learners to do more than remember and understand the substance of learning activities.
These are facilitated by the app's advanced authoring and performance analytics tools, which enable AR course designers and developers to easily edit activities, measure engagement and help learners analyse their actions by recording practice settings to improve practice.
Research conducted by The Open University's (OU) Performance Augmentation Lab has shown that current AR authoring tools in the iOS, Android and smart-glasses market fall short of supporting course creators and organisations to connect their learning processes with strategic learning objectives.
Research highlights that app technology and functionality tend to limit users to display presentations, rather than facilitating support to apply learning in real-time, real-world contexts. This technological barrier limits the scope for organisations, businesses, and educators to integrate their learning objectives in the augmented reality world.
The OU's Open Source MirageXR app has taken steps to address the need for course designers and learners to actively work with information provided in mixed reality settings, rather than just receive it.
Achieving simple and complex goals in learning and teaching
The criteria for advancing AR technology in learning and teaching follows the same criteria that all educational learning objectives can be classified into, the Bloom taxonomy.
Named after the eminent educational psychologist, Benjamin Bloom, the educational taxonomy outlines various criteria to assess learning. Its influence is unprecedented. Since conceived in the mid-1900s, it became the primary vehicle for traditional education creation and remains widely used by course designers and educational institutions for structuring curriculum learning objectives, activities, and assessment.
Professor Fridolin Wild, Head of The Open University's Performance Augmentation Lab, built the MirageXR app to exceed the expectations of educators, covering all of Bloom's learning criteria for an effective curriculum. Professor Wild shared:
"The Mirage tool has been designed in order to be a combined editor as well as player. This gives the users the opportunity to be empowered to create with the tool, which in comparison to the landscape we are competing in, we are the only tool that supports all levels of complexity and specificity".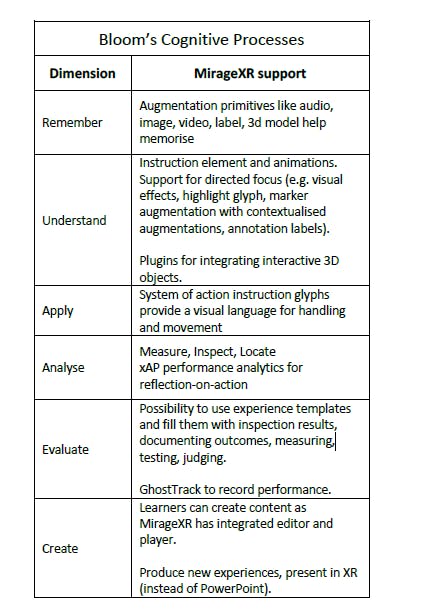 "Our analysis has shown that competing technology only supports low-level authoring in terms of Bloom's 'learning objectives', falling short when it comes to learners being able to analyse, evaluate, and synthesise when learning".

"We have designed various modes in the app to meet these needs. For example, in GhostTrack mode, learner behaviour can be recorded and subsequently reviewed. This facilitates quality assurance , allowing trainers to show learners how to complete a task, as well as learners to share with their teachers how they completed these , showing them visually how correct procedures were followed safely."

"Mirage XR is purposively designed in a way that it encourages course designers and learners to generate content instead of creating a 2D powerpoint presentation, they now have the possibility to create a 3D (or even 4D) demonstration of the assignment they work on."